Digital Duplex Slitter Rewinder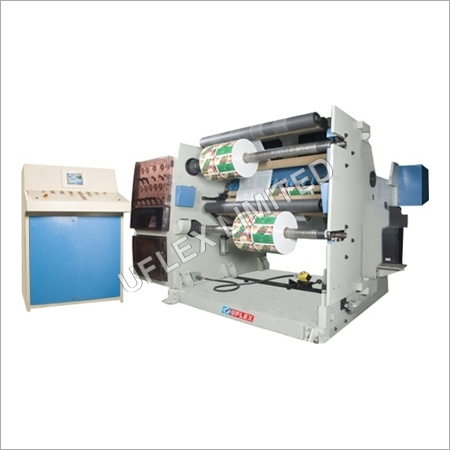 Digital Duplex Slitter Rewinder
Product Description
Being a quality driven organization, we are actively committed towards exporting precision-engineered range of Digital Duplex Slitter Rewinder in the national as well as international market. The offered range of rewinder is precisely manufactured using high grade components and latest technology. The offered range of Digital Duplex Slitter Rewinder is specially designed for the purpose of slitting and rewinding printed as well as unprinted flexible laminates.
Features
Long functional life
Accurate results
User friendly
(SUPER SLITTER-1300)

General Description:

Duplex Slitter Rewinder -1300 with AC Vector Grade Drive for Duplex Rewinder and unwinder with the purpose of Slitting and Rewinding Printed or Unprinted Flexible Laminates.

General Specifications:

Machine Name

Uflex Digital Duplex Slitter Rewinder -1300
Maximum Web width

1300 mm

Minimum web width

850 mm




Unwinder



a) Maximum Roll Diameter

800 mm

b) Inside Core Diameter

76/152 mm




Rewinder



a) Maximum Roll Diameter

530 mm

b) Inside Core Diameter

76 mm

c) Minimum Width

50 mm



Mechanical speed

450 mpm*

Typical Material Range

Hard and soft film, papers and laminates




AC Vector Grade Motors with AC Vector Drives



a) Main Drive

01 no.

b) Rewind Drive

01 no.

c) Unwind Drive

01 no.



Max. Noise level at ground level around the Machine

90 dBA at 1 Mt.




Electricity Rating



Electric Supply Voltage

415 V + 10%, 50 Hz + 2%, 3 Ph

Control Voltage

24 V DC

Total installed Electric Load

25 kW (approx.)




Air



Air Pressure at Machine

Min. 6 Kg / cm2

Water Content

Below 0.01%

Max. Air Consumption

10 M3 / Hr

* Dependent on Material Type and Gauge, Slitting Width and Core quality.

Composition Of The Machine
The following is a comprehensive list of major items of supply:

FLOATING UNWIND STAND
One (1) only floating unwind stand with AC Vector Grade motor arrangement for reel spool, offers a floor pick up system and accommodates a variety of core materials.
One (1) pneumatically operated shaft less clamping cones for 76/152 mm ID are included.
One (1) only line guide unit is supplied to tackle badly wound parent rolls

UNWIND TENSION CONTROL SYSTEM
One (1) only Dancer Roller is supplied to control web tension between unwind and pull station. The tension selection (Digital) is available on the Main Control console.

PULL UNIT
One (1) only Pull Roller, Independently driven by a AC Vector Grade Motor and drive, and nipped by a pneumatically controlled pressure roller.

SLITTING STATION
One (1) only each of Top and Bottom Slitting shafts along with one (1) only Roll system of 3 rolls to Transport slit web to rewind spools.

DUPLEX REWINDER
Two (2) only Rewinder Stations each powered through individual AC Vector grade motor Upper and lower air differential rewind shafts are held rigidly in front support assemblies mounted in door frame.trolley is supplied to hold rewound rolls during unloading

DRIVE SYSTEM
One (1) only four (4) AC Vector Grade motor and drive system with (1) only operator interface Touch Panel.

TRIM COLLECTION
One (1) Trim collection arrangement is supplied with the machine.

MISCELLANEOUS
a) Two (2) sets of electrical drawings complete with parts catalogueand recommended spare parts.
b) All necessary drawings and information required for installation of the machine and connection of all services to the machine.
c) Two (2) sets of operator's manuals
d) Two (2) sets of maintenance manuals.
e) Two (2) sets of detail drawing of rubber rollers.
f) A tool kit with all necessary tools required to operate the machine.

Descriptive Specifications

FLOATING UNWIND STAND
Floating Platform: The unit consists of a precision machined base, on which are located hardened and ground bearing tracks. The floating platform fitted with four number of bearings can freely oscillate in the machine base. Two side frames are fixed on the platform. A pivot shaft is mounted on bearing blocks on top of side frames. A line guide unit is provided to position the unwind stand as per the reel telescopic.Cast iron fully machined unwind arms are accurately aligned and permanently fixed to the center pivot shaft, which acts as a fulcrum for unwind arm.

A drive train from AC Vector Grade Motor is housed on the drive side arm. The center pivot shaft is biaxially rotated by one AC induction Motor coupled to hollow double reduction gear box to bring down the unwind arm for loading/ unloading, to raise up for run position. This offers floor pick up facilities so no additional loading system is required.
The reel spool can be mounted and dismounted quickly in unwind arms using Self shaft chucking system.

UNWIND TENSION CONTROL UNIT
The web passes over a Dancer roller arrangement positioned between the unwinder and pull unit. An inductive proximity switch always keep track of dancer position and Shows to drive continously and accordingly adjusts unwind roll drive . An E to P Is used for dictating set tension for unwinder.

PULL ROLL UNIT
A hard chrome plated and grind pull roller, driven by independent AC Vector Grade motor (which acts as a master drive) on which a rubber pressure roller is nipped by adjustable pneumatic pressure. The unit isolates unwind and rewind tensions.

SLITTING STATION
This station consists of Top and bottom positively driven knife shafts and is located in front of machine for easy survey of slitting operation. The top knife shaft is pivoted about a fixed position and is fitted with pneumatic cylinder in order to swing it into and out of engagement. By unscrewing the hand knobs on the top knife shaft bearing clamps, the shaft can be removed for the machine. The bottom knife shaft can also be rolled out from the machine in the same manner. The arrangement can be set up for razor blade slitting in air or kiss shear knife slitting with appropriate shear knives. The desired slit width is set by sufficient number of spacers provided with the machine. Slit webs are transported on three number of take off rollers to rewinders.

DUPLEX REWINDERS
Alternate slit webs are then led to two (2) air differential rewind shafts where by pressure is controlled by PLC through E to P with respect to roll build up. Both upper and lower rewind shafts are individually driven from two AC Vector Grade motors to give independent tension control to each spool monitored and controlled by load cells for each rewind shaft. Direction is reversible to allow the material to be rewound with printing inside or outside of the rewind package. The lay on roller pressure on rewind web is pneumatically adjustable controlled by E to P to ensure satisfactory rewind roll.

DRIVE SYSTEM
A PLC controlled AC Vector Grade motor/drive system with colour touch panel operator interface ensures ultimate control of web tension through all the tension zones.

The location of four AC Vector Grade motor is:

i) One (1) unwind drive motor.
ii) One (1) Pull Station Motor (Main Drive)
iii) Two (2) rewind drive motors.

Trade Information
Cash in Advance (CID), Letter of Credit (L/C), Telegraphic Transfer (T/T)

1 Per Month