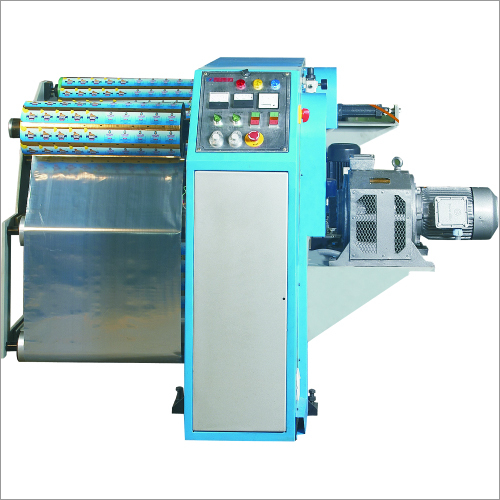 Product Description
Thisequipment has been specially designed to salvage/rectify printed/ unprinted,substrate after slitting. The Doctoring Machine is of cantilever constructionso that the loading of the parent reel and unloading of the rewound reel isboth, convenient and easy. Both the rewind and unwind shafts are mechanically expandableand therefore, the core locking and unlocking can be effected easily.
Apair of precision-machined steel plates, braced together with tie rods andchannel section base, forms the support structure of the machine.
Theunwind shaft along with the necessary braking drum is located on sliding platewhich can oscillate freely on linear motion ball bearings. The desired brakingtorque on the unwind reel can be manually applied by powder brake. Requisite numbers of web support rollers are providedfor the smooth web flow before the rewind shaft. The web path itself has beenso designed that the sensor of the `PneumoHydraulic Edge Guide' can be conveniently adjusted as per requirement.
An eddycurrent variable speed drive is provided for smooth operation of the machine(with soft start) in the range of 0 - 120 M/min.