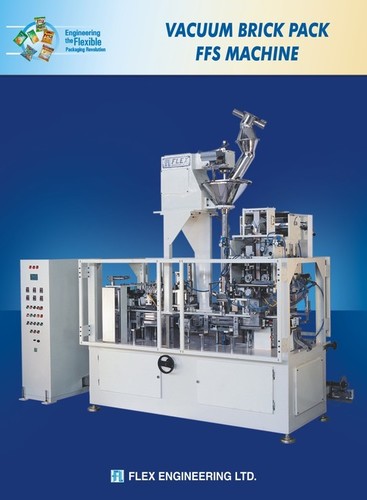 Product Description
Fullyautomatic Vacuum Brick Pack Form Fill and Seal machine is an intermittent motionmachine, designed for the efficient packing of the product in Brick shapepouches up to 500 gms.
Themachine is controlled by PLC (programmable logic control) and has a MMI (manmachine interface) with a digital display and keyboard, which makes thismachine operator friendly.
Thismachine can be synchronized with both the types of filling system likegravimetric filling system and volumetric filling system like electronic loadcell based weigh filling system, volumetric cup filling system, auger-fillingsystem etc. This machine is suitable for both side heat sealable film.
The machine is equipped with brickshaped pockets moving on a conveyor, to maintain the shape of the pouch and thevacuum chamber evacuates the pouch where we get the unique vacuum brick shapepouch.
Thevacuum brick pack pouch will be replica of carton pack of duplex paper throughthe cost of packing is lower by 30% to 40%.